Hyundai presented the "charged" electric car Ioniq 5 N with a power of 641 hp. (21 photos)
Hyundai has officially unveiled its first electric car - the Hyundai Ioniq 5 N. The car has a potential power output of 641 hp. (478 kW) with a two-stage inverter and a battery with a capacity of 84 kWh. Acceleration to hundreds is claimed in 3.4 seconds.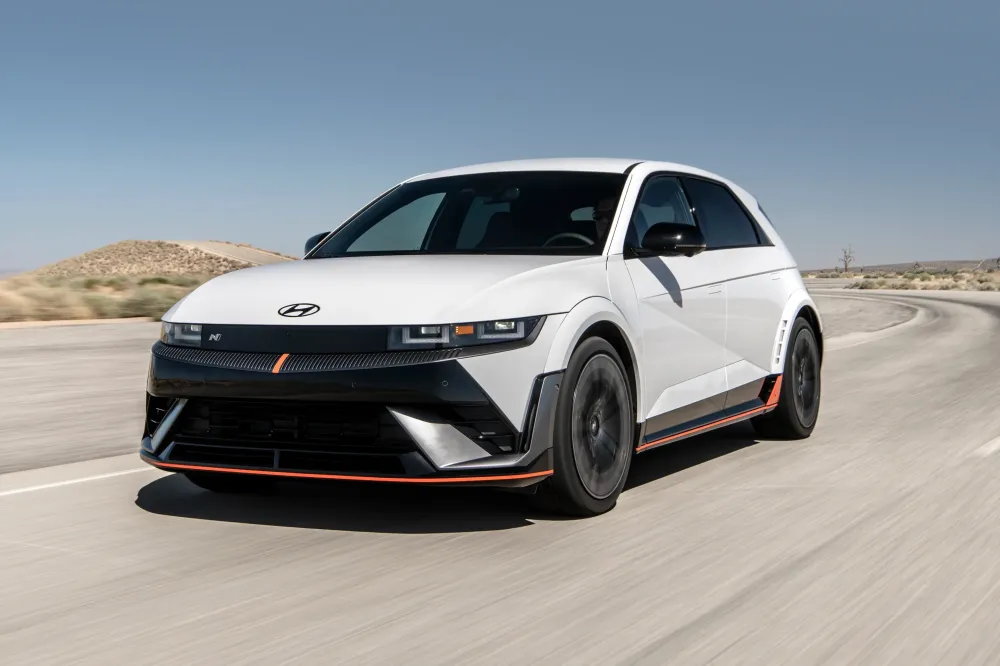 The all-wheel drive Hyundai Ioniq 5 N received two electric motors that produce 600 hp, but there is a short-term power increase mode N Grin Boost, which increases output to 641 hp for just 10 seconds.

The car accelerates to 100 km/h in 3.5 seconds (in N Grin Boost mode - in 3.4 seconds), the top speed is 260 km/h. The traction battery capacity is 84 kWh, the 800 V platform guarantees fast charging: from 10 to 80 percent in 18 minutes.

Hyundai Ioniq 5 N received a lot of interesting proprietary technologies:

- N Brake Regen increases the efficiency of recuperation, as a result of which the electricity generated during braking is stored in the traction battery;

- N Pedal improves car handling when cornering;

- N Drift Optimizer makes drifting easier by allowing you to maintain a constant angle;

- N e-shift - imitates an 8-speed robotic gearbox;

- N Active Sound+, using the audio system speakers, generates the sound of a gasoline engine (there are three different themes to choose from, one of them imitates the sound of a supersonic fighter).

Hyundai Ioniq 5 N differs from the civilian version of Ioniq 5 in dimensions: it is 40 mm wider and 80 mm longer. Ground clearance reduced by 20 mm. The car received a different "tail", which improves aerodynamics and increases downforce. The wheels are 21-inch with Pirelli P-Zero tires adapted for an electric car.